Discover more from Herb Sundays
Weekly playlists by curators.
Over 6,000 subscribers
Herb Sundays 93: Sami Reiss [+ on collecting] (Season 6 Premiere)
Vintage furniture finder and design / health writer brings the goods.
Herb Sundays 93: Sami Reiss (Apple, Spotify, Tidal). Season 6 premiere.
Art by Michael Cina.
---
"I originally tried to make a playlist that was entirely Happy Mondays; I got up to 90% before it morphed into a collection of songs I had, at one point or another, listened to 10 times in a row. Then I arranged them in a roughly palatable way."  - Sami Reiss
---
covers furniture and design in his Substack newsletter, 
Snake
, and reports on health and other topics for publications including
GQ
, ESPN, and the Wall Street Journal. In my own words, Reiss is a mage of the celestial flea market, an eBay flaneur, and a LiveAuctioneers scoundrel. In his own words, his newsletter is:
"my attempt to bring to light the cornucopia of good furniture and design that doesn't get covered or talked about by any other facet of media, and to get it into readers' hands… My interest is in highlighting the most affordable, exciting pieces of furniture available each week—of the thousands I come across as research for my sourcing and buying—and passing those onto readers."
I've talked a fair bit about taste leadership in these pages, from music (
) to clothes (
) and how it is one of the hot topics for art and culture in general, plus how it is
changing the canon
. The work Reiss does falls into this lane as it serves as a rare bit of sanity in a world gone mad as well as teaching us How To See for ourselves. In an ocean of things, there is beauty to be had, if only you can step through the door.
Any collector or thrifter knows that half the value of the object is the find/story/deal that landed said piece. These are sometimes banal but exciting ways to find things (the seller misspelled a keyword online, making it not show up in search results for mere mortals) or fantastical (as a boy, the lore was abundant about dusty pharmacy shops which had a few deadstock basketball card wax boxes laying around). Sami's work, which I would argue is unheralded, is truly one of a kind. In an era of expensive Nirvana vintage tees and mood board Rolexes, Reiss dares to dig deeper and backs up his bona fides with deeper dives on designers like Gaetano Pesce.
"Snake" (a work nickname from a previous era) sends his missives out with a Delta Force intensity. Reiss claims he felt like his corporate jobs were sapping his real writing chops back in the '10s which led to the newsletter that appears at first to be simple recon but quickly unspools into something more majestic (like this here newsletter I tell myself). His first book is an archive of his first 100 missives called Sheer Drift: The Snake America Newsletters (1-100) which you can buy from the publisher or Printed Matter, etc. It's a bit overwhelming, but great to read in fragments for a quick dose even if you don't want any of the contents. The bio sums it up:
Sheer Drift is a collection of the first 100 Snake America newsletters, beginning in 2014 and going until 2018. The letters cover valuable or rare things (about 400 eBay auctions for vintage clothes, furniture and similar) ; auctions are researched and reported on. In some ways, the book is a vintage reference; in others it is a set of dispatches from a broken marketplace and economic hall of mirrors.
He is trying to put you onto the good stuff, trying to level you up, and why not? The stuff is out there for the taking. Why does furniture so readily have to look like shit/cost so much? It's a question that Sami wrestles with and opines on.
"Really, reality lags behind education because it's harder to upgrade one's furniture situation than it is to overhaul a wardrobe or a music collection. Furniture is not as suited to technology as clothing is, or, obviously, streaming media. And we're in a technological age. Upgrading one's couch is a logistical challenge and takes work—not a lot of work, but real work. Analog work."
He sees beauty in historical terms not because he wants to be a dress-up doll of some other era, but because we need to keep this stuff in play and there's no real official archive out there. There's also a wave of consumptive Neomania afoot, so why not find the chair that inspired the chair that is readily available, but is 1/3 the price and looks cooler?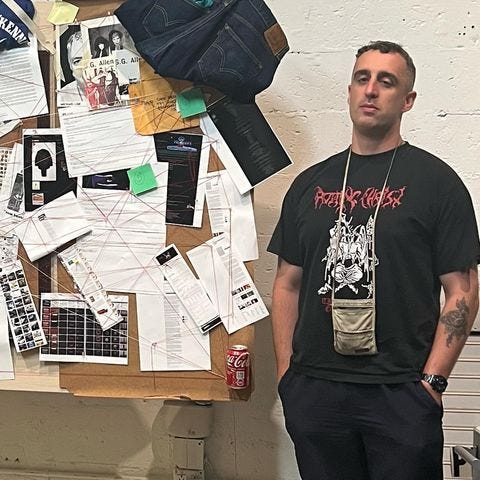 I purchased my copy of Sheer Drift at the Printed Matter Art Book Fair, about one week shy of a year ago when I met up my friend Bijan Shahvali, my favorite Vintage king who has a similar egalitarian streak as Sami and runs the excellent vintage haven Intramural (and also writes for GQ). Bijan introduced me to Sami who was holding court at his table and I felt the need to buy the ring-bound book the second I saw it.
Similar to comedian Joe Pera (I'm halfway through his new standup vid), who penned the foreword to Sheer Drift, I was bemused by the guy. Joe Says: "Recapping the event of the evening to my girlfriend over the telephone later, I remember telling her about the incredibly interesting Canadian man who joined us, with style unlike anyone I'd ever encountered, in a good way, of course." The book has the feeling of outsider art, which auction/resale platforms like eBay tend to have a bit as well but are spiked with snake-brand humor: "eBay: (Jan 30, 2015) Beatles size small sweatshirt, for sale: This is point blank one of the best items on eBay this year. Any division. I love these 1960s sweatshirts. They look better in fit and quality and even fitness than all comers. If this was a person it could bench its own weight.
His look and graphic sense are also confusing for a design-freak which we usually imagine as black turtleneck-enjoyers. It's a little bit Hardcore (his musical flightpath), macho (weight lifting, tracksuits), and something else. you're half afraid he's gonna spout something vaguely offensive, but doesn't. And like sports, Commerce is a competitive activity, a way of looking at the world, and if we're gonna do it, we should do it well. Reiss is documenting the machination of the underbelly of commerce. The unsexy world of acquisition, but in his world, you can have an upside, you can share knowledge.
"Which explains some of why vintage, in the last several years, has taken on. It may be the last new way to spend money and not feel disrespected. Rent has ballooned, wages have flatlined, and the fix is in almost everywhere else. But the deal holds only some of the value. Vintage, as a category, is not better than what's sold at retail. Vintage is no longer a secret, and there is real money involved, and a lot more information is out there. But the broad strokes haven't changed. Infinite things slip through the cracks, and millions of people still don't know anything."
Back in my college era, the "moat" to vintage was the time and eye to go source stuff yourself. I remember Lauren Naimola (Herb 06) and my friend Jakub Alexander were great vintage buyers, spending ample hours at Detroit spots like Value Village to find cool clothes. Obviously, now there are ample resale shops, sites, and online auctions including "claim sales" on IG and more. And yet, there is still room to level up, there's always leverage to be found.
---
why i collect
I've always liked things. As a kid, I even took pictures (like film/polaroids) of my toys. This instinct has never left me, and has always filled me with shame. There are moral truths to life, such as the natural world is the better world. My mom taught me to value "experiences, not things" even. So where did I go so wrong?
Stuff. I was born in it, molded by it. I didn't see the light until I was already a man, only now. Born on the eve of the '80s, when cartoon camels sold cigarettes, Regan would deregulate TV from advertising effectively, creating an avalanche of promotion disguised as programming, a literal barrage of cereal ads and toys at every moment. The New York Times in 1988:
"Along with the deregulation came many other changes in children's television. Toy manufacturers, for example, became heavily involved in children's programming, developing shows based on toys that, in some cases, broadcasters were enticed to schedule in exchange for a part of the profit on toy sales."
In recent years, while I still have an uneasy peace with my acquisitive nature, I've started to locate the root of my interest, or at least justify it. Things (concert ticket stubs, receipts, clothes from a different era of my life) charge me up when I come across them. Or how scent works for many. I am immediately imbued with the feeling of that time and know myself better, which parts remain alive, and which are dormant.
I was heartened by the messy Sofia Coppola photo (c. 2000) that I heard about via a Dirt piece, showing the director's disheveled (art directed?) office. Another Universal Truth is that Minimalism has the moral edge. It doesn't prey on the void or invite material jealousy. Messes are amoral. But some people are good at having stuff.
Stuff People have Stuff Heroes, mine is probably designer Nigo (A Bathing Ape (1993-2011), Kenzo, Human Made) who has had three major auctions (that I know of) of absolutely ridiculous stuff. It's so beyond the pale, that it's laughable but again, if we must do it, we must do it well. But even Nigo likes selling things. "Well, letting go of them is sad, but how do I say it….it's better to pass things on to the next generation."
---
The Fix Is In
I went to a 3rd birthday party with my son this morning which was Thomas & Friends themed, or the British train with a face for those who don't venture into these parts. I thought about why for a moment, why this story world to choose amongst all the other brands (Star Wars, Sesame, etc.)? There's really not a lot to discuss, it's an anthropomorphic train with good colors, there's no morality to much of any of this and it is a thing prob 60% of the room agreed on. The way American adults talk about Taylor Swift or SNL, it just is.
This same morning, I also got the Amazon holiday toy catalog in the mail and showed it to my son, maybe foolishly. As an avid catalog fan as a kid (Sears, Service Merchandise, J. Crew 1.0, etc.) I wanted to see if it stirred anything. It didn't, but it did make me think that the catalog was just Instagram for kids, with magnitudes of longing therein. I felt sort of sick. The fix was in, as Sami said. Another generation inside the wave. And I let it happen. (I was also surprised that this format is largely the same, the web can't compete in terms of raw visual heat like print can.)
So is stuff inherently bad? Its counter, ethical consumption, comes at an extreme price tag. For the adults, it's cash, for the kids it's more longing for The Normal and displacement from the group. For young adults, novelty is a necessity. If you're on camera like they are, you need new clothes. Why would you judge the teen for wanting a new dress? I boosted Polos and loafers from my dad's closet in high school in the pre Fast Fashion daze, but I've bought a lot of junk alongside it too. Sami gets at why stuff is powerful, especially if caught free range:
"What I wanted from vintage back then was a way to dress with some purpose and be invisible at the same time—to catch up, in a way that felt sustainable, to the effortless New Yorkers I saw when I moved here. My vintage taste developed early nurtured over a lifetime spent around music—and so I veered towards trying to reassemble the outfits the musicians wore themselves."
I'd venture to say Sami's capitalism is closer to ideal, though more challenging to achieve without time and rigor, but he's doing a good deed. It's considered, unharried by recency bias, even sleuth-like. We all want to find our look, internally and externally. Snake reminds us that self-betterment is not only seeking enlightenment but to make sense of the material world. The world of things is also the natural world.
Outro: My (Sam's) rules of collecting.
-have a thesis and some guardrails. not everything exciting is worth owning. a picture of said thing suffices 4/5 times.
-don't forage/buy in the same breath. this is harder IRL (fairs, stores) but there are times to look and dig online but put space between that moment and the purchasing moment when your eyes roll back into your face.
-similarly, when ready to purge, sort stuff you want to donate/sell and then sleep on it, it's a different emotional phase. but not sleep too long though.